In Memory of Robb Dylan Broderick
1990 – 2013
You were the baby boy I helped to raise into a young man.
I was so proud of the man you were becoming.
I will forever love you and forever miss you.
I just hope you now have the peace that you needed so badly.
I Love You may you rest in peace Robb Dylan Broderick.
I Love you so much my boy…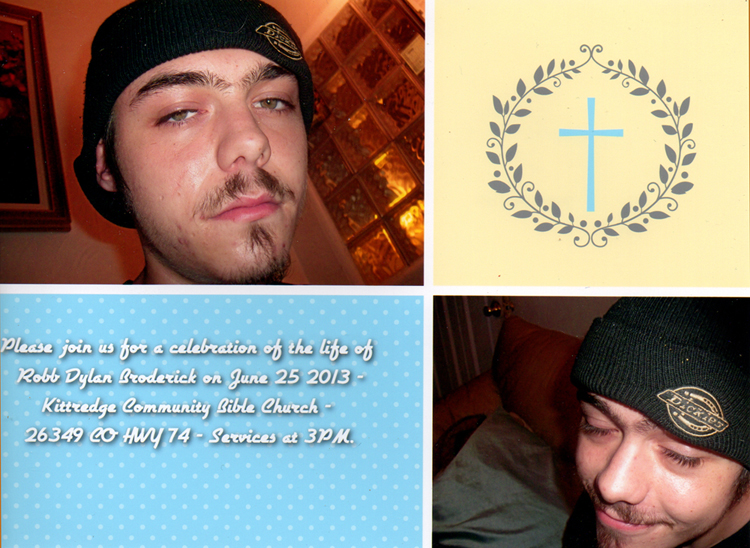 THE SONG OF MON
by Jinmo Avantattaque 01/30/15
Dedicated to David Meidinger
カリウム・ストリングス・ファミリーのDavidはあだ名を"Big D"という。"デッカいD"という意味だが、私はそれを2メートルある彼の身長に由来するものと思っていた。今朝、クリスが本当の意味を教えてくれた。実はデッカいDには"チビッコD"とあだ名する息子がいたのだ。故に親子でそうしたあだ名になっていた。そして昨年、チビッコDは拳銃自殺をしてしまったのだという。昨年はデッカいDにとって、生涯で最も悲しい年となっていた。クリスがいうには、彼は私の"もんちゃんのうた"に出会い、希望と笑顔を取り戻し、命の世界へ戻ることができたという。"命の奇跡"、そして"豊かな死"。そんなデッカいDが、今朝、私にひとつのお願いをしてきた。"もんちゃんのうた"を、彼の身体に刺青として、刻みたいという。刺青の原デザインとなる書を制作して欲しいと。そして、私はこれをデッカいDとチビッコDの為に書き上げた。今夜、彼らに贈る。
Rough (Google-ish) Translation:
Dedicated to David Meidinger. Kalium strings family David has the nickname "Big D." Big D, I thought originated from his stature, 2 meters. Chris told me this morning, the true meaning. Big D's son, killed himself last year. For the last year the Big D was the most sad in his entire life, and told Chris, my song "The Song of Mon" brought hope and a smile back to the world of his life. "Miracle of life" and "rich death." Big D asked me this morning if I would write "The Song of Mon" for a tattoo on his body. I wrote this for the Big D and his son.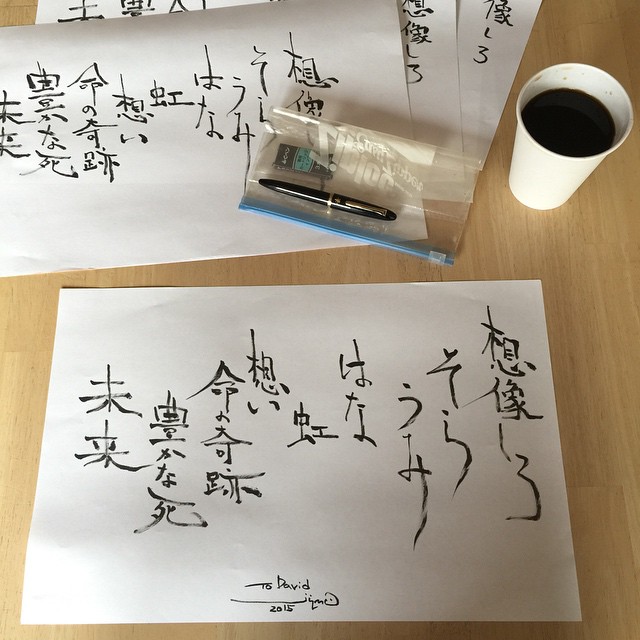 The Song of Mon – もんちゃんのうた
Souzou shiro – 想像しろ
Imagine
Sora – そら
Sky
Umi – うみ
Ocean
Hana – はな
Flowers
Niji – 虹
Rainbow
Omoi – 想い
Contemplation
Inochi no Kiseki – 命の奇跡
Miracle of Life
Yutakana Shi – 豊かな死
Transcending Death
Mirai – 未来
Future
… ore wa ore wo koutei suru – 俺は俺を肯定する
… I affirm myself